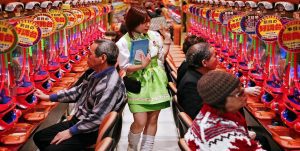 Japan's National Police Agency (NPA) has announced it plans to lower the maximum wins allowable on the country's pachinko machines, and the already-struggling pachinko industry is not happy.
The move is part of a wider plan to combat gambling addiction in Japan after new laws were introduced late 2016 that would see casinos legalised in the country for the first time. Problem gambling is a widespread issue that has gone largely unacknowledged in Japan, until the new casino laws forced policy makers to open their eyes and address the concerns.
Currently, the maximum pachinko profit that can be made over an average playing time of four hours is ¥100,000. The new initiative will see those profits reduced to a maximum of ¥50,000, with a similar limit expected to apply to slot machines when the first integrated resorts open their doors beyond 2020.
The NPA hopes by imposing maximum win amounts, players will be less inclined to chase their losses, and will start employing safer gambling practices. Training programs may also be introduced so that pachinko parlour employees are educated on recognising problem gambling behaviour and can intervene to provide help to players.
A draft of the pachinko industry guidelines is expected to be released by the NPA, with the public invited for comment. Along with capping the win limits to ¥50,000, the draft will also suggest a decrease in the number of pachinko balls in a jackpot.
News of the maximum win limit comes as the pachinko industry struggles to regain momentum, with industry turnover decreasing by a third since the pachinko peak in 2005.
Pachinko parlours are struggling to attract players under the age of 30, with younger audiences opting to spend more of their leisure time online. The payout caps are not helping increase pachinko's appeal, with the number of parlours around the country on a steady decline. In 1995, there were over 18,000 pachinko parlours operating in Japan, today there are less than 11,000.
That's not to say the industry is on its way out – pachinko is still hugely popular in Japan, with the industry currently worth around US $200 billion.
Government officials are in discussion about how to best regulate the gambling industry ahead of construction of Japan's first integrated resorts, amongst widespread concerns the casino industry will open the door to a plethora of social and economic problems for problem gamblers. Multiple suggestions have been put forward, including a ban on Japanese nationals from entering the casinos, setting a cap on the number of visits allowed per month, and exclusion policies for anyone identified to have a gambling problem.
Leave a Reply
You must be logged in to post a comment.