Evolution Gaming is the leader in live dealer gaming software, and it is now the first live dealer gaming studio to add a progressive jackpot to its live Casino Hold'em poker game. We explain how the Jumbo 7 Jackpot works, how to play Evolution's sophisticated Casino Hold'em game and where you can play this progressive title for real money at the leading online casinos.

Where to play Evolution Gaming's live dealer Casino Hold'em online
What is live dealer gaming?
If you are new to online gaming, you may not be familiar with the concept of live dealer games. These are real casino table games hosted by real people and streamed online via a live video feed. You get to watch the dealer take bets, deal cards and announce the results as though you were sitting across the table in a land based casino, but while enjoying the comfort and convenience of playing behind your computer screen. Live dealer games are the ideal choice for those who want to play casino games online but don't trust RNG (random number generated) software, or prefer a more social gaming experience.
Evolution's Jumbo 7 progressive jackpot explained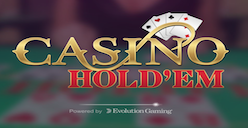 In June 2017, Evolution Gaming announced it would be adding a progressive jackpot known as the Jumbo 7 Jackpot as an additional side bet option to its wildly popular live dealer Casino Hold'em game. The jackpot will become the world's largest live dealer progressive jackpot on offer, starting at a cool €1 million and growing by a percentage every time a real money bet is placed on the progressive jackpot side bet within the linked network.
Todd Haushalter, Chief Product Officer at Evolution, announced the progressive jackpot had the ability to grow to €30 million and could potentially become the largest progressive jackpot in the history of all online slots and table games, growing to be bigger than all online progressive jackpot slot games combined.
How to win the Jumbo 7 Jackpot
The Jumbo 7 progressive jackpot exists as part of Evolution's standard live dealer Casino Hold'em game, so the game itself rolls out as per usual and taking part in the progressive jackpot prize pool is entirely optional.
Placing a side bet on the Jumbo 7 jackpot will require an additional wager, but it can result in a payout even if the player folds or their hand is beaten by the dealer in the main Casino Hold'em game. To win the major jackpot, the player will need to get a 7 Card Straight Flush. Minor jackpot prizes are also available, with fixed payouts on offer for a range of other Casino Hold'em poker hands from a standard Flush to a 6 Card Flush. There are some huge payouts available regardless of whether you hit the major jackpot, with the 6 Card Flush paying 5,000 to 1.
The rules of Casino Hold'em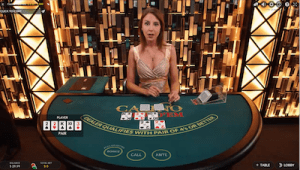 Casino Hold'em is a variant of Texas Hold'em, the most popular poker variant in the world. Casino Hold'em differs to Texas Hold'em only in the fact the game is played directly against the dealer instead of against other players.
The aim is to beat the dealer's hand by getting the best possible five-card hand, which is made up from the two cards dealt to the player and five community cards. A standard deck of 52 cards is used (excluding the jokers), which is shuffled after each game. Standard poker hands are used, with hands ranking in value from Royal Flush, Straight Flush, Four of a Kind, Full House, Flush, Straight, Three of a Kind, Two Pairs, Pair and High Card.
How to play live dealer Casino Hold'em by Evolution Gaming
Evolution Gaming is the leader in live dealer casino software, and has become the most sought after live casino provider at the world's leading online casinos. Amongst many of Evolution's advantages is the fact no downloads are required to play, so you can access live Casino Hold'em directly over your Web browser at any Evolution casino supporting instant-play.
Playing for real money
Unlike RNG online casino games which can be free in demo mode, real money bets are required to play live dealer Casino Hold'em. To make a safe, instant deposit:
Sign up for an account at one of our recommended Evolution Gaming casino sites
Go to the banking/deposit/cashier section
Select from the list of secure payment methods available to players from your country and follow the prompts to enter your payment information to complete the transaction
Don't forget to add any promo codes or claim any casino welcome bonuses as you go
With most deposits appearing in your online casino account immediately, you are now ready to start playing Evolution Gaming's live dealer Casino Hold'em for the chance to win real money and to claim that mouth-watering €1,000,000+ jackpot.
How to place bets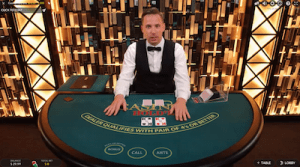 Go to the casinos live dealer section, load Evolution Gaming's Casino Hold'em and wait for the next draw to take place. An unlimited number of players can participate at any time, so you will never have to wait for a seat at the table.
Click the screen to select the size of your betting chip (minimum and maximum bets will vary between each online casino), place your bet in the Ante section and wait for the deal to take place. If you are playing at an online casino utilising the Jumbo 7 Jackpot side bet, simply place an additional betting chip in the Jumbo 7 Jackpot bonus hole to get in on the progressive jackpot action.
Play with the sound on, as the dealer will provide a running commentary of the deal, welcoming new players, announcing winners, calling for new bets and wishing players good luck. To chat with other players, use the chat button in the top left hand corner of the game screen.
Where to play progressive jackpot Casino Hold'em
The introduction of the Jumbo 7 Jackpot was announced by Evolution Gaming in early June 2017, but the function has not yet rolled out at online casino. When it is implemented, it will be up to each individual online casino operator whether they choose to enable the progressive jackpot side bet for players.
A majority of our recommended online casinos host Evolution Gaming live dealer games, and we imagine many of them will take advantage of the progressive jackpot Casino Hold'em bonus. We will update this page as more information become available, but in the meantime you can play Evolution Gaming live dealer Casino Hold'em and other live dealer variants at any of the leading online casinos recommended in our casino table above.