If you are confused about online gambling in the United States, don't worry, you are not alone. When it comes to anything related to real money casino websites and the USA, it can get complicated, but one thing is for sure: Online gambling is 100% legal in the state of New Jersey. For those seeking detailed answers to how Internet gambling and digital casino laws work in NJ, look no further than our special guide which breaks it all down for you.

Best real money online casino websites for New Jersey players
New Jersey online gambling law history – A breakdown
Since November 22, 2010, New Jersey's state Senate was the first official US body to pass a bill with the intention of legalising online gambling. The bill allowed wagers to be taken by companies operating in the state for interactive gambling services such as casino games, poker games, and slots (though it excluded sports betting); it passed successfully with a 29-5 majority vote.
The following year, the New Jersey Legislature passed a bill to allow New Jersey residents over the age of 21 to gamble online using computer and mobile devices, although the legislation and preexisting state constitution stressed the servers of the online casino websites had to be located within licensed land-based casinos in Atlantic City. Governor Chris Christie vetoed the legislation for numerous reasons, but new legislation was drafted in February 2013 which added on the prohibition of businesses other than Atlantic City casinos from advertising online gambling, or allowing use of owned facilities for online gambling. Governor Christie signed this into law for a 10-year trial period – the other stipulations include a 15% tax on all online gambling revenue and that only Atlantic City's eleven brick and mortar casinos are allowed to operate state-licensed online gambling websites.
With new player identification tracking and geolocation monitoring via GPS, the act has been strictly and efficiently enforced by the state's Casino Control Commission since November 2013. New Jersey-based US residents can currently play at state-licensed iGaming websites, as well as a small number of offshore online casinos licensed in foreign jurisdictions.
When did New Jersey legalise online gambling?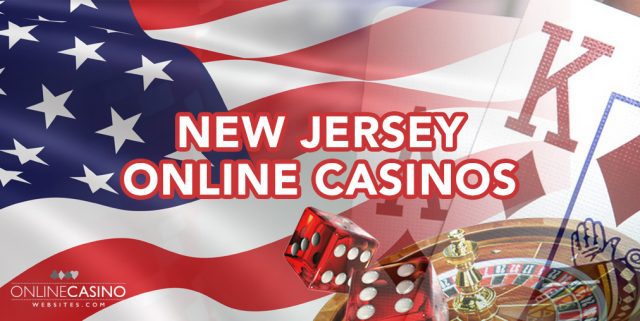 Since November 2013, online gambling has been officially legal in New Jersey.
It became only the third state in the entire country to permit online casinos and online poker rooms to operate within its jurisdiction and legally offer their digital-based services to NJ residents. New Jersey is widely recognised to be the most successful and liberal of the three states which have currently legalised online gambling, in part due to the heavy investment and licensing of Atlantic City land-based casinos, several of which also have partnered up with technology providers and online casinos (referred to as iGaming or Internet gaming) to operate multiple iGaming sites.
New Jersey has enjoyed massive economic benefits since their legalisation and regulation of the iGaming industry, including continuing growth in tax revenue, gaming revenue, state revenue, rising player counts, and thousands of new jobs. A mid-2017 white paper titled "The Economic Impact of New Jersey Online Gaming: Lessons Learned" analysed all financial and sociological data accumulated from 2013 – 2016 to determine the lasting impact of legalising Internet gambling in New Jersey. It was published by American advocacy group iDevelopment and Economic Association (iDEA) and it released the exact monetary figures NJ has experienced since legalising online gambling (from 2013 – 2016).
Over $998.3 million in state revenue
$124.4 million in tax revenue to local and state governments
$83.5 million in iGaming taxes
3,374 new jobs in the iGaming sector
$218.9 million in wages to employees
Other significant findings include iGaming not cannibalising Atlantic City land-based casino revenue streams as expected by some parties, as well as the implementation of new cutting-edge technologies like precise geolocation and regulatory monitoring to ensure all NJ residents who access and bet at all state licensed online casinos are over the legal gambling age of 21 – and that they are actually gaming within the state. It also acknowledged problem gambling prevalence rates in NJ have increased since legalisation, though iGaming is found in the studies cited to not be the sole cause given just 5% of survey respondents were online-only gamblers, and calls for better problem gambling efforts.
With more than $40.3 million in total gaming taxes expected in 2017, online gambling seems to be going from strength to strength in New Jersey. So what's the confusion?
Is online gambling legal in the rest of the United States?
United States online gambling laws are handled on a state-by-state basis, which makes keeping up with the country's many legislative changes often very difficult. The Unlawful Internet Gaming Enforcement Act (UIGEA) of 2006, which banned American financial institutions from processing payments related to Internet-based gambling, is the one main piece of legislation which applies to all states. Following the UIGEA, many offshore-based online casinos ceased servicing Americans to avoid the legal complications from the new act, while others stayed on.
Learn more about the United States' current online gambling laws in our detailed guide.
What about offshore-based online casinos for New Jersey players?
Other than the local iGaming online casino websites run by Atlantic City land-based casinos, New Jersey-based US residents can actually access and play at other online casinos operating in offshore advanced gaming jurisdictions – though the choices, especially for trusted websites, is unfortunately extremely limited due to the strict country-wide laws and the lack of enthusiasm to target such a complicated state-segregated gaming market. Thankfully, there are a handful of big worldwide brands which are reputable and trusted as places to play real money:
…and more games in USD currency with variety of secure payment methods, including Bitcoin, Neteller, Skrill, and more. Online casinos also offer the option of playing games for free in practice mode, so you can try the online gaming format before risking any of your own money.
The best online casinos we recommend for New Jersey and US players in general that are based overseas are licensed by recognised authoritative licensing bodies such as the Antigua & Barbuda Directorate of Offshore Gaming, Curacao eGaming and Kahnawake Gaming Commission, adhering to their strict laws and regular site audits to be classified worldwide as a site which practices fair and safe gaming practices and pays out their players.
Check out the official reviews and sites in the casino table at the top of this page, which is geo-targeted to your location to only display offshore sites we recommend which legally cater to American-based players.