Over the last decade or so, an increasing number of Australian online pokies releases have ditched the traditional payline system in favour of the 243 ways payout format. But what is the difference between the two, and how do these all-ways slot games actually work? We're here to answer those questions and show you some of the hottest 243 ways pokies games on the market right now.

Best real money pokies sites
What are 243 ways slots?
The term '243 ways' or '243 ways to win' refers to a 5 x 3 reel video slot in which payouts are awarded regardless of where the winning symbols finish up on each reel. They still have to land in consecutive columns from left to right, starting on the first reel, but they don't have to connect in any specific payline patterns in order to produce a win.
As such, this system automatically puts into play every possible winning combination with every symbol set. So with an online video pokie featuring five reels and three rows of active symbols, it works out like this:
Three symbols multiplied by five reels = 3 x 3 x 3 x 3 x 3 = 243 ways to win
There are also 1024 ways pokies (5 x 4 reels) such as Arctic Fortune and Secret Santa, and 3125 ways to win slot machines (5 x 5 reels) like Dolphin Coast and Reel Rush, but the 243 ways format is far and away the most common deviation from standard win lines.
243 ways pokies vs. payline slots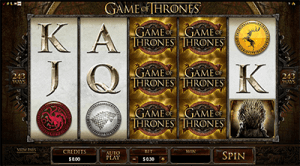 The easiest way to demonstrate the difference between ways-to-win slots and the classic payline pokie would be to find a popular game which allows punters to choose either formula. Much to our good fortune, Microgaming released just such a title in 2014: the highly acclaimed Game of Thrones online slot games, which are available now at several of our top-rated real money casino sites.
The Game of Thrones 243 Ways pokie functions just as described above: standard symbols pay from left to right, regardless of where the symbols are placed on each reel. No matter how little or how much you bet, you always cover every possible winning combination on the machine.
The Game of Thrones 15 Lines slot, however, functions much more like a conventional video pokie. Here, with the exception of the scatter feature, you can only win when symbols join up in at least one of 15 specific left-to-right patterns – i.e. pay lines or win lines.
The latter GoT pokie uses fixed bet lines, which means you always play the full 15 lines. However, there are hundreds of Internet slot games which, like those classic Australian pokie machines found at pubs, clubs and land-based casinos all over the country, allow you to select how many lines you wish to bet on. These range from traditional reel slots and online pub fruities with up to five lines on offer, to advance feature pokies where you can play anywhere from one to 50 paylines per spin.
Pros & cons of 243 ways to win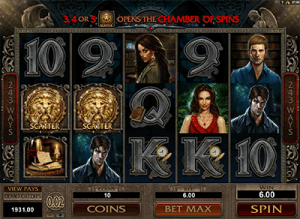 For simplicity's sake, let us stick with the Game of Thrones comparison. On the surface, the 243 ways GoT slot seems like the only logical choice. Why would you opt to limit your winning potential with 15 win lines, when you could instead put every possible paying combo in play?
There is one significant factor to consider: though you tend to win more often with 243 ways slots, you usually don't win as much money. When betting the same amount per spin, the 15-line Game of Thrones pokie produces bigger returns for each hit than its all-ways sibling. This is because coins are spread out over only 15 win lines, whereas the alternate version cuts up each stake into much smaller portions in order to cover all 243 ways to win.
For example: a $3.00 bet (10 x 0.02 coins) places $0.20 on each of the 15 win lines, while the same size wager (10 x 0.01 coins) allots a smaller stake for each of the 243 possible wins. In this scenario, five Stag sigils on the 15-payline slot would earn us $120, while the same five of a kind would return only $25 when playing with 243 ways to win.
On the other hand, that same combo – every winner, in fact – is much, much easier to come by when there are no payline restrictions. Thus, although they pay significantly less per hit on the Game of Thrones 243 Ways online slot, every combination (with the possible exception of the Iron Throne scatters) appears far more frequently.
Best 243 Ways real money pokies for Australians
There are dozens upon dozens of 243-ways slot games for real cash play at our top-rated online casinos for Australian pokies players. The vast majority of these are produced by Microgaming, which leads the gaming software industry with trend-setting real money slot games like these:
Game of Thrones – The 243 ways GoT online pokie machine delivers everything you would expect of such a highly anticipated franchise slot. The graphics and soundtrack are first class, evoking the hit TV series' iconic opening theme, while special features like the Iron Throne scatter bonus and the Gamble Trail add that interactive element which so many modern-day punters can't live without. The highlight for us at OnlineCasinoWebsites.com is the free spins feature, where you can choose to side with either the Baratheons (eight free spins + 5x multiplier), the Lannisters (10 free spins + 4x multiplier), the Starks (14 free spins + 3x multiplier), or the Targaryens (18 free spins + 2x multiplier).
Battlestar Galactica – The 2003 reboot of the cult sci-fi series was renowned for its stunning visual effects and high-octane action sequences, and the Microgaming slot release is no different. For immersive features, player interactivity and overall entertainment, few Internet pokies can touch Battlestar. Probably the most impressive innovation here is the career progress meter, which allows you to unlock special features and new rich media content when you fill the bar and level up. There is also an FTL (Faster Than Light) mode, scatter symbols and free spins to be won, and a randomly activated Ion Storm bonus.
Jurassic Park – One of the highest grossing films of all time is now one of the Net's most sought-after real cash pokie games. The 243 ways Jurassic Park online slot is beautifully animated and features all the major characters – human and dinosaur – from the 1993 Steven Spielberg classic, including real cinematic clips featuring Dr. Alan Grant (Sam Neill), Dr. Ian Malcolm (Jeff Goldblum), Dr. Ellie Sattler (Laura Dern) and the late Richard Attenborough as John Hammond. Best of all are the five unique dino-themed bonus rounds, each of which offers 12 free spins with either wild reels (Tyrannosaurus Rex), multiplier wilds and split wilds (Velociraptor), mystery multipliers (Brachiosaurus), or Microgaming's signature Winning Wilds (Dilophosaurus) and Running Wilds (Triceratops) features.
Girls With Guns – This Microgaming original series comprises two of the hottest 243-ways games on the Internet gambling market today. Girls With Guns: Jungle Heat slot sees Katherine, Maria, Alex, Zoe, Kira and Jess trekking through the tropics in pursuit of South American drug lords, with an explosive (and eye-catching) bonus game up for grabs via the scatter feature. The sequel, Girls With Guns: Frozen Dawn, follows the sexy secret agents on a quest through ice and snow to take down the villainous Saskia, and features a randomly activated Shootout Bonus as well as 12 free spins with either Magnetic Wilds or Frozen Wilds.
This is just a small sample of the 243 Ways pokies available online. This is a very popular game format and you will find lots of other popular 243 Ways titles available at our recommended online casinos.
Play these 243 ways slot games and hundreds of others at Slots Million, where new players can claim up to $100 in bonus money and 100 free spins when signing up for a real money account. Pokies at Slots Million are available for instant-play directly over your Web browser with no downloads required.