When you start playing at online casino sites, you'll hear a lot about the different deposit options available and which ones are worth your time and money. Our editorial team tested the top five most common casino payment methods – credit card, bank deposit, Neteller, Skrill and Paysafecard – to give our readers an informed, unbiased decision about which is the best online casino deposit option. If you're new to online gambling, refer to our beginners guide to signing up at an online casino and learn how to deposit real money safely online.
Note: The information provided may differ depending on which country you are playing from and which currency you are using, so please ensure you read all the terms and conditions of any deposit method carefully before handing over any of your own real money.
Depositing to an online casino with a credit card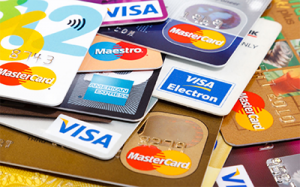 Credit cards are both the most loved and most feared online payment method. They are loved because they are familiar, but feared because as savvy online users, we have all been taught that the very idea of handing out your credit card details over the Internet puts our privacy in a compromised position. Thankfully, all of the recommended online casinos across our site have undergone our testing to ensure they are safe and protected by digital SSL encryption, so we weren't worried about entering our credit card details to make an online casino deposit.
We signed into our account at Slots Million, one of our top-rated casino sites with a strong reputation for security, clicked to deposit using Visa (MasterCard is also available), entered our credit card details and deposited $30 to our account. The deposit hit our casino account instantly and we were ready to start playing games for real money – no fuss, no delays, no safety issues.
OnlineCasinoWebsites Credit Card Rating: 5 out of 5 stars
Credit Card Benefits: Quick, easy, hassle-free, safe
Credit Card Downfalls: Some banks don't accept credit card deposits for gambling services
Depositing to an online casino via bank transfer
Depositing via bank transfer was easier than expected. We assumed a bit of a verification hassle would ensue and were pleasantly surprised to find this an easy deposit option. We signed in at Royal Vegas Casino and selected 'Instant Deposit' from the list of payment options, not sure if our bank would support Citadel Direct transactions as required, but there it was listed in the compatible banks.
We selected our bank and were redirected to our standard Internet banking login page, where the casino payment details were automatically uploaded. We followed the prompts to enter the amount of funds we wanted to transfer and the process was complete.
The only downside is that the payment took three business days to hit our online casino account, but we were aware that this would happen before we made the deposit. Bank transfers always take a few business days to process, so as long as you're aware of this you can avoid any disappointment.
OnlineCasinoWebsites Bank Transfer Rating: 3.5 out of 5 stars
Bank Transfer Benefits: Easy, safe
Bank Transfer Downfalls: Long processing times, not all banks support online casino deposits
Depositing to an online casino with Neteller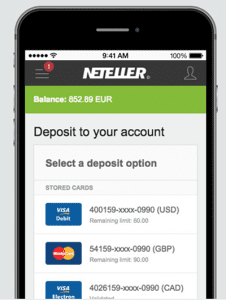 Neteller is often touted as being one of the best, safest and most highly recommended online casino deposit methods, but after our experience with this Web wallet provider, it's difficult to understand why. During our testing, Neteller was an absolute flop and isn't something we would ever use again. While signing up for an account was painless, it was all downhill from there.
We made a deposit of $40 to our Neteller account, which was processed straight away, so we moved on to deposit those funds into our online casino account with Platinum Play. No matter what, our deposit just kept getting rejected, advising us to check we had sufficient funds in our Neteller wallet or to try another deposit method. Confirming our Neteller account was sufficiently funded, we checked with the live chat team at Platinum Play who advised the payment was getting rejected by Neteller, not by the casino's banking system. Rather than waste a minute more with a payment provider that wasn't working seamlessly, we made the regrettable move of requesting to withdraw our funds from Neteller back to our bank account, which is where the fun really started.
It was upon our withdraw request that we found out Neteller imposes a $15 transaction fee on all withdrawals – a charge we were not aware of before signing up. Considering we were only withdrawing $40, that was a large portion of our money, but wanting to be free of Neteller's delays we decided to accept the charges and proceed. To get access to our measly remaining $25, we had to provide Neteller with a photocopy of our drivers license and documents from our banking provider to confirm our identity and bank account, which was an annoying and time consuming process. From there, Neteller said we would have our money within 10 business days.
We received our payment within about three business days, which would have been a positive if rage hadn't ensued. Looking at our bank statement, we could see that Neteller had only deposited $10 to our bank account. With no live chat customer service available, we emailed Neteller support asking where the rest of our money was. They replied with the response that "international transfers may be subject to additional charges as a result of intermediary bank fees beyond our control" and closed the query.
In the end, that meant $30 of our $40 to Neteller was literally thrown down the drain in fees. We walked away with $10 of our original $40 with absolutely nothing to show for it except for a bad taste in our mouth when it comes to all things Neteller.
OnlineCasinoWebsites Neteller rating: 1 out of 5 stars
Neteller Benefits: Free and easy to sign up, safe to use
Neteller Downfalls: Giant withdrawal fees, undisclosed bank fees and issues with depositing to a Neteller supported online casino
Depositing to an online casino with Skrill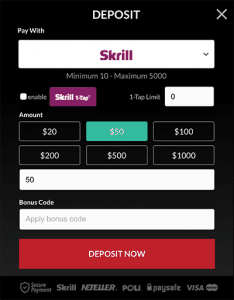 After our negative experience with Neteller, we approached setting up an account with Skrill with caution, making sure we read all the fine print so the unexpected transaction fees wouldn't kick us in the guts like they did with Neteller. We only deposited $20 so that if we experienced any problems, we wouldn't be as much out of pocket as we were when Neteller screwed us over. Signing up for an account through Skrill.com was free and easy, requiring standard personal information and quick verification of our email address.
We choose to deposit to our Skrill wallet using direct bank transfer, as it's one of the only free deposit methods at Skrill (Visa deposits include a 1.90% transaction fee while MasterCard includes a 2.25% transaction fee). We read the terms first, so were aware that bank deposits can take from two to five business days to process. We made our deposit on Monday afternoon and our funds were in our Skrill account by Thursday morning.
We logged into our account at House of Jack, selected Skrill as our chosen deposit method and entered our Skrill details to transfer the $20 to our account. The transaction worked with no fuss and no errors, with the money hitting our casino account instantly. We had heard that like Neteller, Skrill has a reputation for long-winded withdraw processes (although their withdrawal fee is only $8.70 which is outrageous, but much better than Neteller's heinous $15 fee) so we were almost relieved when we lost our $20 playing blackjack and didn't have to bother facing Skrill's withdrawal process.
OnlineCasinoWebsites Skrill rating: 3 out of 5 stars
Skrill Benefits: Safe, reliable for quick deposits
Skrill Downfalls: Bank transfer processing time, fees attached to credit card deposits, withdrawal fees and poor reputation for customer service and withdrawals
Depositing to an online casino with Paysafecard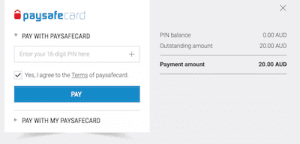 Over the years, we've heard equal part great reviews and horror stories about Paysafecard and were exited to finally give this deposit option a go and see for ourselves how the process turned out. Paysafe is the parent company who owns Neteller, so after our recent dismal experience with Neteller we approached Paysafecard with caution.
We headed to the Paysafecard.com official website and used their 'Find Sales Outlets' tool to enter our postcode and find a list of the stores closest to us stocking this pre-paid card. We were pleasantly surprised to find that several of the major petrol stations and convenience stores nearby sold Paysafecard (Note: We are lucky enough to be located in a busy metropolitan area, and can imagine those living in more regional areas or cities where Paysafecard is less popular may find retail outlets difficult to come by).
Our closest sales outlet was right on the corner, so we ran out and grabbed a $20 Paysafecard directly over the counter using an EFTPOS card. Given some bad reviews we heard, we chose to pay using EFTPOS so we would have the transaction on record in case we needed to contact Paysafecard with any issues later, as we'd heard of customers being shut down because they paid in cash and had no proof of the payment. The transaction was hassle-free and as easy as making any other retail assisted transaction.
Armed with our $20 Paysafecard voucher, we headed online to one of our favourite online casinos, Royal Vegas Casino, signed in, went to the deposit section and selected Paysafecard. We entered our unique 16 digit PIN number when prompted, and were surprised and relieved to see the deposit hitting our account right away with no problems or delays. For us, Paysafecard was a positive experience, but given the reputation this company has for blocking payment and having a long drawn out disputes process, we advise customers to always be cautious and buy Paysafe vouchers in smaller increments to make sure the deposits will work at your chosen casino site before making larger purchases.
OnlineCasinoWebsites Paysafecard rating: 3 out of 5 stars
Paysafecard Benefits: Safe, with deposits processed instantly
Paysafecard Downfalls: Proximity required for purchasing cards from retail stores, vouchers only available in $10, $20, $50 or $100, poor company reputation.
Our verdict on the best deposit method
After trying the five most commonly accepted online casino deposit options, credit cards came out the clear winner. While other services like bank transfers and Paysafecard were good alternatives, credit cards had no processing delays, no hassles and were completely safe. Web wallets like Skrill and Neteller required too much paperwork and insecurity as you operate through the middle-man, with all kinds of unnecessary fees and hoops to jump through. If you want to use a credit card but are nervous about putting your card details online, consider using a trusted VPN (virtual private network) service for an extra layer of security.
Play at a safe, secured online casino like any of those recommended at our site, enter your credit card details and you'll be playing for real money in minutes with no stress and no issues, while being protected by the strict anti-theft, anti-fraud measures used by Visa and MasterCard. For more information about making safe online casino deposits, read our beginners guide to depositing real money.