Online gambling is illegal in China and Hong Kong, resulting in many nationals from the Chinese mainland to venture to the special administrative region of Macau, the only place in China where casinos are legal. Gambling tourism is the biggest contributor to Macau's tourism, with Macau now surpassing Las Vegas in terms of annual gambling revenue. But which are the best casinos to play at in Macau? Read on to find out more about this global gambling hot spot.
History of the Macau casino industry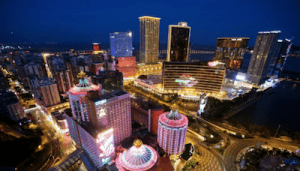 Gambling has been legal in Macau since it was a Portuguese colony in the 1840s, but it was only in the last decade or so that the Macau casino industry grew to become the thriving gambling hub that it is today.
In 1847, gambling was legalised in Macau to generate more revenue for the government, with licenses granted to over 200 fantan houses, which were the popular Chinese gambling houses of the day. Fantan was a popular gambling game in China with similar characteristics to roulette, and has since been overtaken in popularity by more modern casino games. The fantan house operators were required to pay rent to the government, thus providing a hefty boost to the economy and teaching Macau's government the valuable lesson that legalised gambling could really pay off.
In 1937, the Tai Xing Company was granted Macau's first ever casino monopoly, which meant the company had sole permission to own multiple gambling venues. Rather than exploiting the monopoly, Tai Xing acted very conservatively and the gambling industry didn't experience significant growth until 1962 when the government granted monopoly rights on gambling to a syndicate called Sociedade de Turismo e Diversões de Macau. STDM, which translates to Tourism and Entertainment Company of Macau Limited, was founded by Hong Kong businessman Stanley Ho and several other prominent businessmen from Hong Kong and Macau. During STDMs monopoly, the group revolutionised Macau's gambling industry, introducing western style casino games and enhancing transport between Hong Kong and Macau to make it easy for millions of gamblers to visit from the mainland each year.
STDM's monopoly came to an end in 2001, after sovereignty over Macau was transferred from Portugal back to China in 1999 and Macau became a special administrative region of China. While there were no changes to Macau's gambling laws, additional licenses were granted to various casino operators including foreign developers, and many of the big names in gambling from the USA made their way to Macau.
Macau now takes in more gambling revenue than anywhere else in the world, with over 30 casinos in operation from some of the biggest names in the casino industry. The region is a hot spot for VIP gamblers, with many high rollers attracted to the high limit baccarat tables. A recent crackdown in China on corruption and proxy betting has resulted in a decline in profits to Macau's casinos, but the industry continues to thrive despite the reported slump.
Land based casinos in Macau
The casino industry in Macau is thriving, and there is absolutely no shortage of choice for tourists or punters who want to frequent the bright lights of this special gambling resort town. The entire city of Macau is centred around gambling, so you never have to wonder far to find yourself outside of the next casino, but if you're looking for inspiration, here is an overview of Macau's biggest and most famous land based casinos.
The Venetian Casino Macau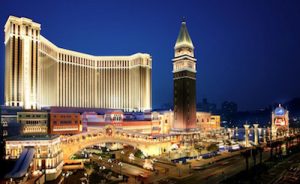 This is the big daddy of all the casinos in Macau, offering the world's largest gaming floor, with 540,000 square feet of pure gaming space. The Venetian Macau is a fully integrated casino resort, housing 3,000 luxury suites, convention centre and retail stores. The casino is open 24 hours a day and offers close to 3,500 electronic slot machines and 800 gaming tables, including blackjack baccarat, roulette, sic bo and Sands Stud poker. Owned by the Sands Group, The Venetian Macau was designed to be an exact replica of the famous Venetian Casino on the Las Vegas Strip.
Wynn Macau Casino
Wynn Macau first opened its doors in 2006, becoming the first Vegas-style integrated resort in Macau. It underwent a huge makeover in 2010, now offering gaming facilities, a 600 room hotel, restaurants, retail stores, bars and beauty spa. The casino gaming floor is 264,000 square feet large, hosting over 375 slot games, 210 tables games and 200 VIP gaming tables. The minimum bets at Wynn Macau are higher than most of the other casinos in the area, as gamblers are paying for a more high-end gambling experience in a boutique, luxury setting.
Casino Lisboa Macau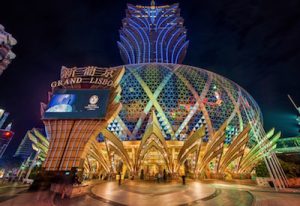 Casino Lisboa was the original major casino in Macau, owned by STDM and dating all the way back to the 1960s. What started as a three-story gaming complex has expanded over the decades with multiple renovations, with Casino Lisboa now boasting a 12-story hotel tower, an additional hotel known as the Grand Lisboa and 190,000 square feet of gaming space. The Grand Lisboa is the tallest building in Macau, with casino games split over four floors to include more than 730 slot machines, 430 table games and VIP gaming facilities. Games on offer include sic bo, blackjack, Caribbean stud poker, roulette, fortune wheel and casino war.
MGM Macau Casino
Opening in December 2007 to the hefty tune of US$1.25 billion, MGM Macau (originally called the MGM Grand Macau) is owned in partnership by MGM Resorts International and Pansy Ho, the daughter of STDM casino tycoon Stanley Ho. It offers over 600 hotel rooms, high-end retail shopping, a VIP night club and seven signature bars and restaurants and is designed to pay homage to Macau's Portuguese heritage. The MGM Macau casinos 280,000 square feet of gaming space hosts over 1,200 slot machines and 345 gaming tables.
City of Dreams Macau
Built, owned and managed by the Melco Entertainment Group, City of Dreams Macau is one of the biggest mega integrated casino resorts in Macau. City of Dreams (or CoD as it's commonly referred to in the gambling industry) is made up of four towers, including the Hard Rock Hotel, Crown Towers Hotel and the Grand Hyatt Macau. In addition to world-class gaming facilities, City of Dreams is a major drawcard for tourists thanks to its attractions that include an aquarium, bubble fountain, 2,000 seat Dancing Water Theatre, two levels of designer retail space and over 20 restaurants and bars. The casino offers 420,000 square feet of gaming space with 750 slot machines and 240 table games, with the Signature Club reserved for VIPs and high rollers.
Galaxy Macau Casino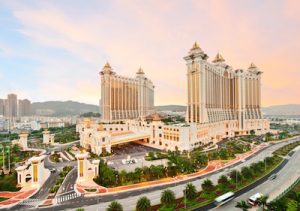 The $1.6 billion Galaxy Macau opened its doors in 2011 and is designed to cater specifically to the tastes of the majority visitor to the region – Asian tourists. The Galaxy aims to offer a truly world-class Asian resort experience, with design taking inspiration from South East Asian architecture and restaurants offering pan-Asian cuisine. The Galaxy mega-resort includes the SkyTop Wave Pool and artificial beach, more than 2,200 hotel rooms, over 120 food and beverage outlets, retail shops, an oasis garden and the famous Galaxy Grand Resort Deck. The 400,000 square feet of gaming space offers over 1,500 slot machines and 550 table games, including all the casino classics along with Asian Poker, Fan Tan and Commission Free Baccarat.
Other popular casinos in Macau
Other land based casinos in Macau include:
Sands Macau Casino
Casa Real Casino
Grandview Casino
Altira Macau
Grand Lapa Hotel & Casino
New Century Hotel & Casino
The Legend Club
Kingsway Hotel & Casino
Golden Dragon Casino
Pharoah's Palace Casino
Ponte 16 Casino
Casino Marina at Taipa
MJC Casino
Casino Oceanus
Online casinos in Macau and China
Online gambling has changed the casino industry, attracting many punters away from the land based casinos and onto Internet gambling sites, where they can enjoy the excitement of playing for real money from the comfort of home. Unfortunately for Chinese nationals, online gambling is strictly prohibited and it is illegal for Chinese players to access offshore casino sites. Both land based and online gambling are subject to the Criminal Law of the Peoples Republic of China, with punishments including fines, criminal detention, public surveillance or imprisonment. It is these strict laws that keep so many Chinese citizens from heading to the land based casinos of Macau.
If you're reading this from outside of China, the online gambling laws that apply to you will differ. To find out more about the online gambling laws around the world, read our guide to online gambling laws. If online gambling is allowed in your country, you are free to play online slots, blackjack, baccarat, roulette, poker and other casino games for free in practice mode or for the chance to win real money. Read our beginners guide to playing at online casinos for more information.