Live dealer casinos are among the fastest growing enterprises in online gaming, with more real money gambling sites buying into this unique hybrid format. Gamblers can choose from a great range of live blackjack, roulette, poker, keno, lotto and baccarat games right now at trusted Internet casinos, but this is just the tip of the proverbial iceberg.

Best live dealer online casino websites
What kinds of additions and developments can we except as live casino technology continues to improve over the coming years? Will live dealers go mobile? Will we be able to play online casino games on new-age optic devices? What new games and special features might we see at real-time Web casinos in the near future? Here's what we at OnlineCasinoWebsites.com think.
Mobile Live Dealer Games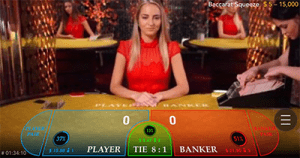 Live dealer casinos and mobile gambling are on parallel trajectories, gaining more followers with every passing week, and it's only a matter of time before real-time live croupier gaming is made more widely available on smartphone devices.
Just think about the implications here: we would be able to play genuine casino games, with real dealers and real analogue results, at any time and at any place we can get a solid WiFi or mobile data connection. Thankfully, this is actually a reality in 2017!
If you have never played real money mobile games and are a little sceptical about the platform's virtues, we suggest taking one of these leading iOS and Android casinos for a test drive:
As you can see, the quality of the mobile gameplay and performance is right up there with the desktop casino equivalents. Imagine, then, playing mobile blackjack or roulette with real-life dealers on your Android, Google Nexus, Oppo, iPad or Samsung Galaxy tab at home, on the train to work, while waiting for a meal or a coffee, at the doctor's office – anywhere you want. It's not a matter of if, but when the availability of live dealer on smartphones and tablets and the quality of Internet streaming arrives.
Live casinos on Oculus Rift and other wearable devices
What the hell is "wearable technology"?
In simple terms, this is the next big thing in mobile computing. The idea is to take everything we do on a PC, tablet, or smartphone and condense it all into a kit which can be worn like an everyday accessory.
Wearable computers as consumer products are still fresh out of the egg, but you can bet they will become the new must-have smart devices over the next decade or so. And when that happens, it will open up a whole new world of online mobile gambling options – including real cash casino games such as live dealer blackjack, live roulette, poker, baccarat and more.
The poster child for this groundbreaking technological push is Google Glass – an optical head-mounted display (OHMD) which allows you to perform all manner of tasks through a pair of lightweight specs with a simple touch pad on the frame. Another OHMD to look out for is Oculus Rift, the 3D virtual reality gaming goggles, which will become available for public purchase in 2015. There's also Apple iGlasses and smartwatches such as the WIMM One – a feature-packed digital wristwatch powered by Android technology.
New live dealer online croupier titles
The best live dealer casinos have the classics covered with real money and live croupier blackjack, baccarat, roulette, poker variants like three card poker and casino hold'em, keno and lottery games, all at various stake levels. So what fresh live casino titles can we expect to see popping up at live online casinos in the near future?
For starters, sites powered by leading games software developers like Evolution Gaming are sure to delve into more exotic variations of traditional table games, such as double-ball roulette, hybrid blackjack and sports roulette. Caribbean stud and live casino poker games will appear soon enough, and we would Asian classics like sic bo and pai gow poker will also be developed for the live dealer format in time.
We can only wait and see when these fresh live dealer titles hit the virtual shelves. If the demand is high enough, the supply will follow. Until then, we can enjoy dozens of live dealer titles on offer at the moment at secure Microgaming casinos like AllSlotsCasino.com, as well as live casino hold'em, live 3 card poker, live lottery, and live keno games at LeoVegas.com and Guts.com (our top-rated Evolution Gaming and Net Entertainment live croupier casinos).